Board of Management of Hoa Sen University
PRESIDENT
Assoc. Prof. Dr. Vo Thi Ngoc Thuy
Associate Professor and PhD, VO THI NGOC THUY successfully attained her doctorate in Management Science, majoring in Marketing in France at the age of 29. She has many years of teaching at Hue University, Ho Chi Minh City National University, Aix-Marseille University and Kedge University in France.
In 2018, she was one of the young PhDs awarded the title of Associate Professor. She has accumulated 15 years of experience in management positions, including 2 years of experience as Deputy Director of Ho Chi Minh City Department of Tourism; 6 years in the positions of Vice President of the Institute of International Education (National University of Ho Chi Minh City), Head of Marketing Department and Head of training programs in association with French Universities – the Faculty of Economics & Management of Economics and Law University (National University of Ho Chi Minh City).
In addition to her scientific work, she formerly worked as the Ambassador of the French Marketing Association in Vietnam, the president of the Student Union of Hue Economics University and as a member of the Central Executive Committee of the Vietnamese Student Association.
---
VICE PRESIDENT
PhD Phan Thi Vietnam obtained her PhD in Higher Education Administration from California State University, Fullerton (USA) in 2014.  She has worked for nearly 20 years at HSU with positions such as Head of Assurance Quality and Testing, Director of the Center for Excellence in Pedagogy and Director of the Center for Research and Accrediation of Higher Education. She received the Certificate of Merit from the Minister of Education and Training for outstanding achievement in quality assurance in Lingu and the accrediation of higher education and pedagogical colleges for the period of 2011-2020.
Dr. Phan Thi Viet Nam
---
Master Nguyen Hai Ninh graduated with a degree in Information Technology Engineering from Science and Technology University, Hanoi and received a Master in Human Resource Management from Canberra University, Australia.
He has more than 20 years of experience working in the field of education in such places as the Organizing Committee of the Party Central Committee, Nguyen Hoang Group …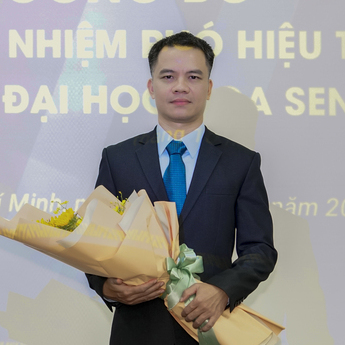 Master Nguyen Hai Ninh